The market of
LED displays
is thriving with every single passing day. As a result, there is a vast increase in the use of these display screens. Besides, the scope of LED screens has expanded much. And as a result, its demand is also increasing.
Here, I will explain to you a simple phenomenon. With more demand comes more manufacturers and suppliers. Therefore, it is challenging to choose one company. Apart from this, every LED screen company is trying to excel. Every manufacturer is trying to develop a unique product at an affordable price. Thus, it is a real struggle to get the ideal LED screen. 
In this post, I have compiled a list of the top 10 LED screen companies in 2022 in Sri Lanka. These companies provide quality products with the best customer care services. Okay then, what are you waiting for? Let me solve this problem by starting with our first company:
The first LED company on our list is Emerging Media. Formed in 2009, it is a giant in digital signage solutions in Sri Lanka. The main products of this company include LED screens and digital signage solutions. 
Emerging Media has installed LED screens at 200+ Colombo, Sri Lanka locations. This company has also received several awards. It is one of the largest brands in the field of advertising in Sri Lanka. Thanks to such success, it is a market leader now. It continues to push its limits. And it can introduce innovative technologies in the market. 
I have concluded that there isn't any LED product that is not available at Emerging Media.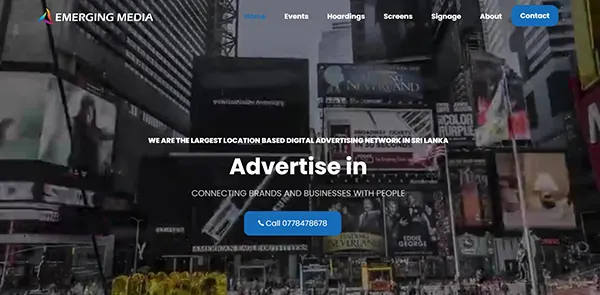 The following LED advertising display company on our list is SNV Events. It focuses on LED displays and LED video wall solutions. Like previous companies, it also has a name for itself in the LED display market. It has established its reputation due to its professional rental LED services.
It is a one-stop shop for all the LED products needed for any event or business. But, it has shown great expertise in the rental LED display and LED video wall solutions. It offers high-quality and top-notch LED screens. It has a team of
highly
professional and skillful technicians and engineers. As a result, it adds a sparkling shine to your event. 
If you are looking for LED products for any event, I highly recommend visiting this company.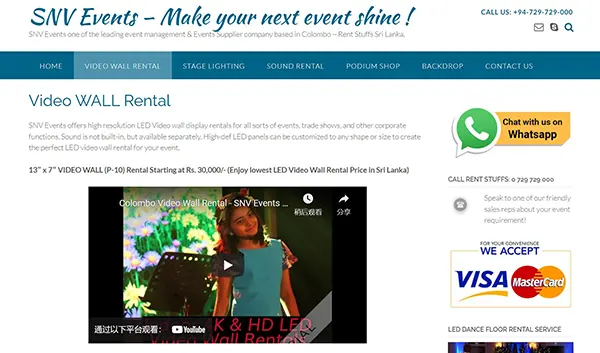 How can we miss Storm Media on our list? It is a high-tech brand on a national scale. Its main field of interest includes LED solutions. These are:
LED displays for advertising
It aims to provide the best-LED screen promotion for its clients in Sri Lanka. It uses the latest LED technology and strategic thinking to promote your products. And on top of this, its LED screens are superb in quality. As a result, the LED products of Storm Media are very high in demand. I can assure you that this company is an expert in its field. Due to its excellent services and top-notch products, it has a name. 
The following LED display company on our list is Reggee Advertising Services (Pvt) Ltd. It is the leading outdoor advertising company in Sri Lanka. It is an expert in corporate branding.
Reggee Advertising Services Ltd has also won the 'National Excellence Award.' It deals in a wide variety of products, including LED screens. It has a team of
highly
skilled and professional members. They will provide the product and give you the perfect LED solution you need. And I know you won't regret buying an LED product from this company.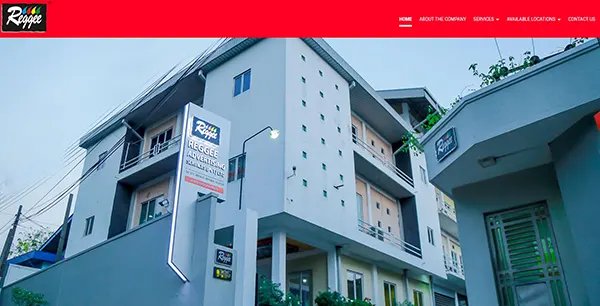 Atomedia is a reliable LED screen supplier in Sri Lanka. It operates in 22 locations throughout Sri Lanka. And this company is best known for its LED solutions. These include:
Digital signage solutions
It claims to have more than 1800 active LED displays in Sri Lanka. It has served its customers for more than 12 years now. Atomedia is working hard on the Giant screen and Video wall installations. Shortly, we will see more of these types of technologies.
I will discuss the following LED display company: Sign and Shine. It is another leading digital advertising company in Sri Lanka. It offers many products, including:
Sign and shine will provide you with the right LED solution for your business needs. Located in the bustling suburb of Colombo, this company is fast moving forward. It has set a high standard for the quality of LED screens. I can say it with a guarantee that its quality differs from others.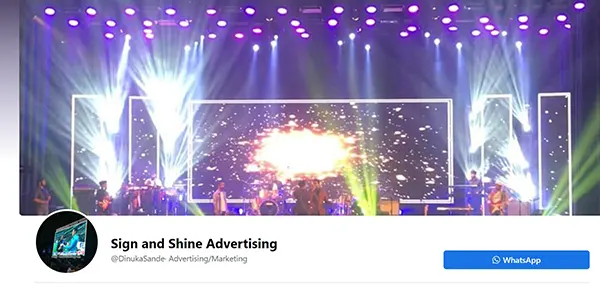 Outdoor Media specializes in the field of LED display screens. It is one of the primary and leading suppliers of display screens in Sri Lanka. It has served in Sri Lanka with its LED screens for over a decade. The best thing I like about this company is its excellent customer care services.
Outdoor Media offers various outdoor and indoor LED solutions and products. If you are looking for such products, this company is the right option for you. I guarantee that you can
surely
trust its LED services.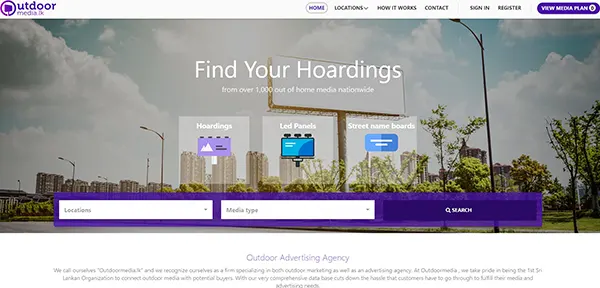 It is one of Sri Lanka's most trusted LED screen suppliers. It also rents LED screens for various types of events or businesses. It offers the following products:
Outdoor mobile digital screens
It claims to have covered more than 5000 events. And what's best for you? Hiru Advertising Colombo sells high-quality products at discount prices. Thus, if you are low on budget, I think it might be a good option. Therefore, it is a professional company in its field.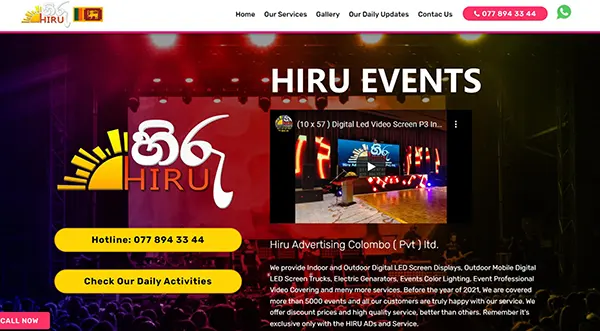 How can I let this discussion finish without telling you about Hikvision? It has kept itself as a premier brand in its field. Hikvision focuses
mainly
on LCD and LED video walls. 
It also specializes in LED digital displays. It offers its coast-to-coast client services to cover its client's needs. It strives to achieve the latest technology and innovative methods. The reason behind the success of Hikvision lies in its teamwork. Each member of this company specializes in their field of expertise.
The last but not the least LED display company on our list is Prime Events Solutions. How can I not include this company? It is one of the best rental LED screen companies in Sri Lanka. 
It serves its customers with rental LED screens for different events. You can see its LED solutions all over the country. It is an exclusive event managemental company. Apart from this, it also serves a variety of other related products.
Prime Events Solutions will add the necessary sparkle to your event. You should
try its LED products once. I assure you that you will enjoy its excellent services.
After a lot of research, I can present you with this list. It is about the top 10 LED screen companies in 2022 in Sri Lanka. You can get several options for buying the display screen from this list. No matter the type or version of the LED screen, there is a reliable supplier in Sri Lanka.
If you are looking for LED screen suppliers in your country, for instance, the USA, you can
explore here
.