What initial idea comes to mind when you imagine LED video walls? Used-car lots? Lanes for bowling? Pizza places? Many brands have found that having a display to promote their services is helpful. Likewise, display screens can be very vital for churches. Churches want to be more visible and develop modern worship environments.
Creating and keeping a solid religious community is one of the most crucial things a church can do. A digital display makes it easy for churches to reach out to existing and potential members. But, conventional signs are hard to change and can only show a few messages. Thus, it makes it harder for them to attract attention and get viewers.
Many churches use LED display screens. They let their gathering and the nearby community know about activities. They promote the events that the Church is sponsoring. They can also spread religious messages. For example, they let people know about significant dates and times to worship.
Individuals of all ages and cultures go to Church. Thus, they need to communicate information that can link up with many people. One of the best ways to do this is with an LED display that can be helpful in many ways.
What is a Church LED screen?
Display screens have reached the places of worships. The displays used in church for various purposes are church LED screens.
LED screens are large displays made up of light-emitting diodes. They show pictures and videos. A wall of pixels makes up a display screen, connecting many module panels. There are cabinets around these panels. They work together perfectly to give you the best resolution possible.
The best thing about this is that it helps even if you have a big community. Even far away, people can easily see every little thing on these screens. It is also an excellent way to get the kids interested. Most of the time, children don't care about these religious gatherings. With all of this in mind, display screens can be helpful for churches in a much more practical way.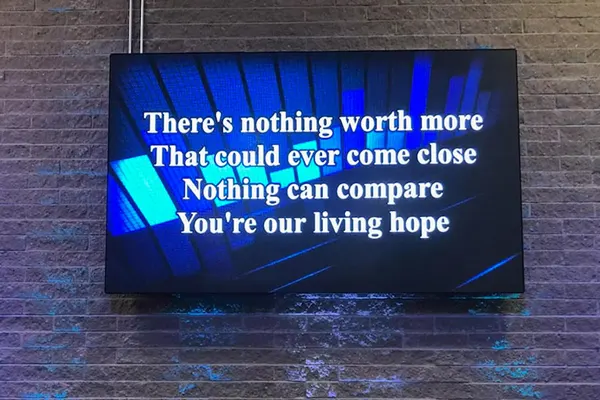 Benefits of buying an LED video wall for Church:
More and more churches are putting in high-quality screens. These screens help them get people more involved and bring more people to Church.
Optimized visibility and colors:
Ordinary projectors need to be more bright to keep people's attention. And they make it hard to read. Most of them have between 100 and 150 nits or less. Because of this, they are only helpful in dark rooms.
But large LED screens for churches are famous for having high-quality videos. They come with 600~1,000 nits, so you don't have to turn down the brightness to improve the viewing experience. So, the gadgets are great for places where the light could be brighter and dim. It makes them a better choice than an LCD or projection system. Particularly if your sermons happen at different times of the day, it is beneficial.
Another great thing about screens is the improvement in intensity ratio. You can improve it by making the black levels or color brightness brighter. Since these machines are already more brilliant, white colors may be too optimistic. But this problem is easy to fix: change the contrast ratio. Displays have a fantastic range that lets you show images with more details and colors.
Lastly, the grayscale settings on the Church's modern video screen are fantastic. It refers to how many shades there are, from dark to light. LED panels have a system to control 16-bit color depth processing. And keep the grayscale at its best without hurting the quality of your images. So, it's easy for your congregation to keep up with the Bible, live feeds, and song lyrics. It is another reason why they are better than regular display options.
Longevity:
When setting up video sermons, your LED display technology can break in the ongoing video. It is the last thing you want while presenting a video. But unfortunately, it is what happens when churches use panels that aren't LED. They usually only last three to six years and need care all the time. Also, they usually only have one source of light for the projection, which is why they wear out so quickly.
However, LED screens have a useful life of up to 100,000 hours and don't need much maintenance.
Cost efficiency:
The only problem with display screens for churches is that they can be a bit pricey. Still, their energy-efficient layout makes up for it. It makes them more accessible and better.
Small parts get assembled to form display screens. You can change these small parts with ease. These are cheap as well. They don't need much maintenance and last longer than conventional projectors. Besides, they use 40%–50% less energy than standard products. It saves a lot of money and makes the higher price worth it.
Uses of LED screens in Church:
There are many uses for LED walls in Church. A few of them are as follows:
Advertisement of the Church:
You've been in society for a while, but you need to get more people. You need a little more marketing. It may seem unusual for a church to advertise. But, if you want to help the people around you, you need a simple route to let them know you are here for them. An LED display is a simple, easy way to let people passing by know about your offerings. It also helps you to make them aware of events and programs and get more people to come through your doors.
Inspire:
Symbols in churches were in use for decades to encourage more people. These had verses or truths that renewed the mind. But, changes to formal religious signs took a lot of work, and the same poem often shows for a month or more.
With an LED digital display, you can change the message on the symbol quickly and as often as possible. If you think society needs a special note of encouragement, you can use it. It only requires a few seconds to put on your different message and lift those who need it.
Indoor services:
Due to their versatility, display screens are becoming more and more popular. Indoors and outdoors offer spaces for individuals to gather and worship. Here are some things you can do with screens if you want to establish a meeting indoors:
Speaker presentations:
You can show a camera feed from a guest or speaker on a screen with perfect clarity. It also lets you add eye-catching graphics to your lyrics and slideshows.
Special events:
LED screens are a great way to add to weddings, plays, and religious ceremonies. These can also add things to other special events. So people who can't see well or are in the back of your Church can enjoy the party just as much as everyone else.
Distant worship:
Christmas and Easter bring in many people, and you want each person to have the same experience. For example, you can use a screen in a church's overfilled room. Another great idea is to send live streams from your holy place so people can pray in a good place. You can also broadcast activities to associates who couldn't make it if you use other devices. It is particularly beneficial for individuals who can't walk or are older.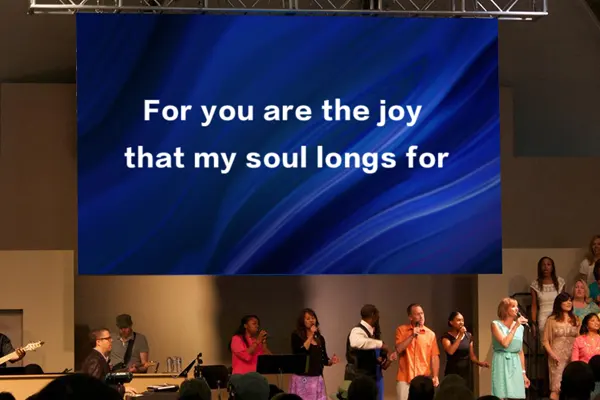 Outdoor services:
LED video isn't just for sermons in the Church. It's also a great way to take worship outside of the Church. When you have events outside, your congregation can get together casually. Here are a few ways a screen is helpful for an outdoor church service:
Holiday/ Important days in a calendar year:
Christmas and other big holidays are usually when many people get together. If your Church can't fit many people, a great solution is to hold a service outside with large LED screens. There's more room, and the video quality is better, so people can easily follow along with your speech.
Events for the whole town:
The Church is more than just praying and listening to talks. You can also invite the community to faith-based movie nights and carnivals. You can also use these screens for bible event celebrations. It can take any event to the next level with bright colors, good contrast, and brightness. Besides, it makes the sessions fun, so more people will come to your sanctuary.
Factors necessary for choosing the right LED screen for Church:
You should consider many factors while selecting church LED video wall systems.
Content:
Have you ever thought about what you want to show on the screen? It is something that many people need to think about when they choose a display.
Let's say you want to spend a lot of money on display and choose a 10mx4m screen with 3mm pixels. The demos make the screen look amazing. But it seems a little blurry when your video switcher puts something on it. What happened? You have moved past true HD and into 4K quality, but your video switcher needs to manage to keep up. When you submit a 720p signal to a screen with a resolution of more than 2k, it does not work. You will have to upgrade the content to accommodate the screen.
Environment:
When choosing display technology for a church, it's essential to consider the environment. For instance, if the choir house has many windows, the projection might need to be more vivid. But display screens can be bulky. So if you're comparing display to point, you need to think about the structure.
How far it is to the front row:
When choosing which LED screen size to use, it's also essential to consider how far away the first row is. For example, if the minimum viewing distance is 3 meters, you can choose the P3 type. So, you will still see some pixels at that distance. But, the pixels begin to diminish as you move back.
Available budget:
When the pixel pitch gets smaller, the cost goes up. It is essential to think about it. You will get surprised by what you can get for your money. The price increases as the distance between pixels get smaller. However, LED screens with less than 2.5 mm pixel pitch are now quite affordable. Ask how much different sizes cost, and you'll see the difference. Projection isn't necessarily cheaper than LED displays.
Some people say they can't afford a screen, so they use projection instead. Besides, they want the projector to work well, although many windows don't block the light. A bright projector that can fill a large church can also be expensive. Since a church LED wall is black when not working, it's nice that it doesn't stand out too much. But, a projector is with a large white surface.
Conclusion:
With technological advancement, we must realize we can use it for every purpose. It is necessary nowadays to be up to the latest technology to survive. We must fully use technology, whether in religion or other fields. From the facts mentioned above and the figures, it is evident how important it is to use screens in Churches. It helps your religion grow. It makes a lot of things easy. Every Church should have these screens to convey its message in a better way and to attract people.