Do you want to make a significant impact at your next event? LED screen rental companies provide a great way to display visuals effectively. With the exemplary LED screen rental service, you can be sure that your event is a success.
We will discuss the top 10 LED screen hire companies in London below.
YSLV is one of the top UK display screen rental companies. This company has more than two decades of experience in this industry. As a result, you can rest assured about the quality of their products. It has been supplying innovative LED technology for over a decade now. With its vast array of technical knowledge, YSLV is always creative.
It has provided display solutions to events, brands, agencies, and trade shows. It has helped many brands to achieve their vision. YSLV is one of the first companies to use seamless plasma panels. Moreover, it is also the first company in the UK to offer high-resolution outdoor displays. YSLV provides the following products:
Indoor LED screens
Outdoor LED screens
digital signage
HD and 4K TV displays
Audio appliances
Lighting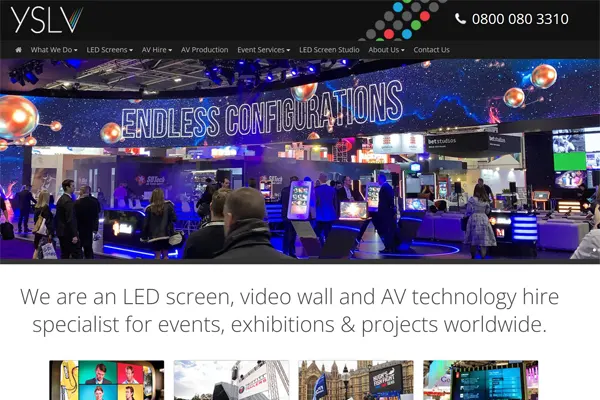 This company has a stock of indoor and outdoor LED products for hire. It is an old player in this industry with more than 20 years of experience. Located in London, it offers LED products all over UK and Europe. This company has fantastic client testimonials to its name.
It has successfully managed events, conferences, and shows for national and international clients. It has a professional team of audio-video experts. Besides, LED Video Wall Hire has rented its products for the following events:
Award ceremonies
Exhibitions
Conferences
Fashion shows
Product launches
Concerts
Sporting events
Charity events
Shopping centers and malls
Retail and advertising purposes
LED Video Wall Hire offers the following rental products:
Indoor LED wall hire
Outdoor LED wall hire
This company had started with just one 18 sq meter trailer-mounted mobile LED screen. Now it has almost 25 years of experience as a family-run business. It has vast technological knowledge, integrity, and customer service skills. These qualities have enabled it to evolve from a local brand to an international one.
Lightmedia offers all indoor and outdoor display products for hire. Besides, it manages the following types of events:
Festivals
Outdoor cinema
Advertising
Sporting events
Retail opportunities
Exhibitions
Award ceremonies
Corporate conferences
It has a passion and hunger for client satisfaction. This passion drives LMD to achieve more and more. It has a dedicated team of technical experts who now hold a vast clientele. It uses all this experience and expertise to create an unforgettable event for you.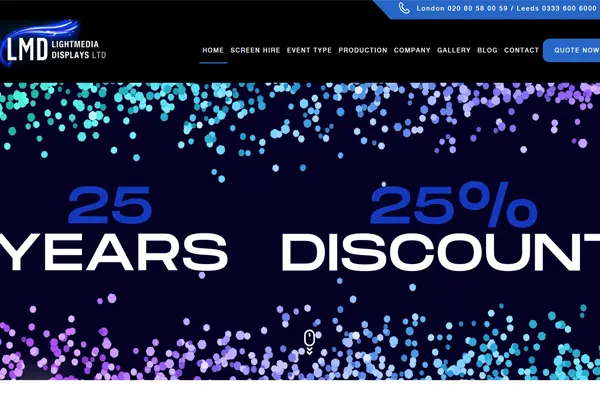 It is an established and official London production company. It offers its service primarily in London and South East. But now, it has expanded its work across the UK and abroad. It provides the equipment. The team oversees everything to make your event "Awesome." You can hire the following devices from this company:
LED screens
Plasma screens
Drones
Projectors
LED lighting
Staging
Sound
Awesome Audio Visual London successfully manages the following events:
Conferences
Awards ceremonies
Graduation ceremonies
Seminars
Product launches
Installations
Fashion shows
Charity events
Live music
Exhibition
This company has almost ten years of experience working in this field. It has a host of high-quality LED display products. Besides, it has worked with some of the most prestigious brands in the world. Located in Central London, this company has offices all over Europe.
London Audio Visual offers the following products:
LED screens
LED video walls
Creative LED solutions
LED tiles
HD projectors
Audio video equipment
London Audio Visual provides its products for the following purposes:
Film and broadcast
Retail
Virtual production
Experiential marketing
Product launches
Exhibitions
Gala events
Conferences
Award shows
Fashion shows
Sporting events
This company offers production services across London, Surrey, and Hampshire. It deals with all types of events, including:
Small house party
Corporate function
Wedding
Outdoor festival
No matter what your event is, this company finds the right solution for you. They provide a DIY service that every customer finds affordable and accessible. With a vast stock of hiring products, it can manage all your needs for the event. For example:
LED screens
LED dance floor hire
LED uplighting hire
Event production services
Installation services
Sound hire
Special effects hire
LED/Plasma screen hire
LED video wall hire
LED furniture hire
It is a specialist in LED screens for the dance floor. If you want to make an extra impact on your event, I recommend you contact this company. It has perfect visual solutions for weddings, functions, concerts, private parties, and venues.
Dancing on Stars offers the following products:
LED dance floor hire
LED video screen hire
Lighting hire for stage and production
Cold firework sparkler system hire
Mobile bars and seating hire
It has 20 years of experience converting your event into a dream day. This company advises on all aspects of events, including music, DJs, and effects.
OTE is a leading event production and audio-visual hire company in London. It offers reliable and quality products at a reasonable price. It consists of a group of friendly and proactive audio-visual experts. From video and lighting to staging and set, you can hire everything from here for your event.
OTE offers the following products:
Indoor LED screen
Outdoor LED screen
Digital signage
Conference video walls
Mobile LED video walls
OTE can supply display screens of any size and type and in different configurations. Besides, it provides nationwide LED screen hire service.
This company has audio, video, lighting, and staging solutions expertise. Based in London and Exeter, it offers its services all across Europe. It keeps its products to a high standard and checks before and after every hire. Planning and organizing event requires a whole set of technical staff. Stage Engage provides the solutions as well as the technical team for events.
It aims to turn your event imagination into a reality. Stage Engage offers the following services:
LED display solutions
Lighting
Live sound
Staging and set
Installation and technical services
This company claims to offer the most extensive rental and production services stock. With 30 years of experience, you will find the best product here. It invites its clients to book a free consultation with its team. Halo offers the following products:
LED screens
Lighting
Audio video
Lasers
Special effects
Staging
Delivery and setup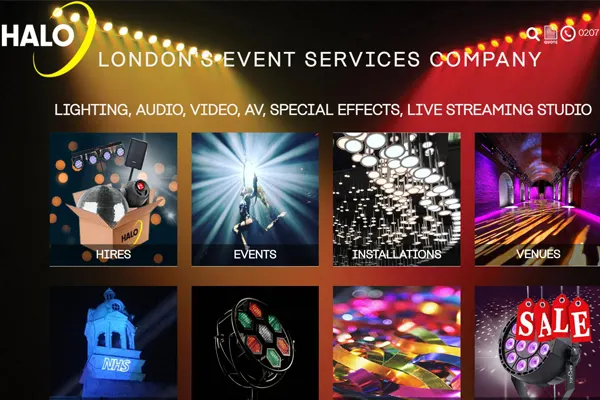 Conclusion:
I have listed the top 10 LED screen rental companies in London. These companies specialize in this field and offer the best products. Besides display screens, they offer all services related to events and shows.
If you want to know more about LED screen hire prices, read this post.