LED display cabinets are screen frames. They are modular units on which we assemble the display screen. These display cabinets can vary in:
Size
Building material
Specifications depend on the type of display screen.
Classification of LED display cabinets based on size:
There are different LED display sizes. Here are some common standard ones:
For outdoor fixed projects: 960×960 mm, 1024×1024 mm, 768×768 mm.
For indoor fixed projects: 640×480 mm, 640×640 mm, 960×480 mm.
For rental event projects: 500×500 mm, 500×1000 mm, 512×512 mm, 576×576 mm, 640×640 mm.
Classification of LED display cabinets based on manufacturing material:
We can classify LED screen cabinets based on the material used in manufacturing. On this basis following are the types of LED screen cabinets:
Galvanized iron material
High-end die-casting aluminum alloy
Magnesium alloy
Carbon fiber
Nano-polymer material cabinet
Let us briefly discuss each type of cabinet.
It is one of the most common LED display cabinets. It has extensive use in outdoor LED screens. If we talk about its advantage, we must consider its good sealing ability. Moreover, it also offers affordable prices.
Every device, along with its advantages, also have some disadvantage. And these disadvantages include heavy weight and low accuracy compared to die-casting cabinets. We usually use these for large outdoor screens and billboards. It weighs about 38 kg/m2 for an outdoor iron cabinet.
Die-cast aluminum alloy:
We have already discussed the disadvantages of the iron cabinet. Unfortunately, these drawbacks do not support screens with small spacing needs.
So, the new materials grab the attention of the market. Among the latest materials, the die-cast is the most popular one.
After working on this material for years, we can now introduce lighter cabinets in the market.
It offers a range of advantages. These include lightweight, more reasonable, and high accuracy. Besides, it can realize seamless splicing.
The latest die-cast aluminum display screen has comprehensive optimization. It is one of the newest versions of the traditional display box. Rationalization occurs in both structure and performance.
It is actually for rental display screens. Besides, it is for fine pitch LED display. We make it with a patent and high-precision box. It has convenient disassembly and assembly. It has incredibly convenient maintenance. Moreover, there is a list of its advantages which includes:
There is no seam between the cabinets.

It effectively controls the tolerance range.
It adopts a hoisting structure.
It adopts a power and signal connector for easy connection.
Connection is safer and reliable.
Magnesium alloy LED display cabinet:
Magnesium alloys consist of magnesium and other elements. These cabinets are essential as they offer a wide range of advantages. Their characteristic features are as follows:
It has a low density (about 1.8g/cm3 magnesium alloy)
It has a high specific strength.
Its elastic modulus is large.
It has good heat dissipation without air-conditioning.
It has good shock absorption.
It has a more extraordinary ability to withstand impact loads than aluminum alloys.
It has good resistance to organics and alkalis.
These displays have high-cost performance. They tend to save costs on steel structures and air conditioning.
They are easy to install
They tend to have zero noise.
All these features make it more workable hence increasing its demand. Moreover, they enhance the lifespan of the display.
Carbon fiber LED display cabinet:
This kind of cabinet offers you a lot of advantages. Its characteristic features are as follows:
First, the design of the carbon fiber LED display is ultra-thin, less than 3 cm.
It is light in weight, only about 4 kg per panel with 500×500 mm.
It has a tensile strength of 1500 kg.
Its pull resistance is 1.5 tons.
It adopts a fully modular design.
It provides you with convenient maintenance.
Nano-polymer material LED display cabinet:
Like other materials, nano polymer material also offers a range of advantages. Here I have a list of its features. These features are somehow offering you a better option. It includes:
It offers shock and drops resistance.
They are lighter in weight than a conventional cabinet. For example, the weight of a single led panel cabinet is only about 5 kg.
It is pretty easy to handle.
It is relatively cheap than a die-cast aluminum LED display cabinet. Besides, it has low transportation costs.
Loading and unloading are pretty simple procedures in the case of these cabinets.
All the cabinets mentioned above share a common feature of being light, thin, and easy to install. Only iron cabinets lack these features.
Classification of LED display cabinets based on environment:
Now we will discuss the classification of LED cabinets based on environment. In this part of the classification, we have three types. These types include:
Fixed cabinets for outdoor installation
Fixed cabinets for indoor installation
Cabinets for external facades
Let us briefly describe each type of cabinet one by one.
Fixed LED display cabinets for outdoor installation:
For the outdoor LED screen, we need weather-resistant cabinets. They must tend to withstand all weather conditions. The material and design must be ready for any situation.
We have a variety of designs to install in an outdoor setup. But for me, the best investment in such cases is double back door designs. They are better than the standard type of single back door types. Moreover, they have a simple assembly.
But like other cases, it also offers a disadvantage. Weather-resistant materials are heavier in weight. So, we are going to face the burden of weight. Besides, the average weight for these units sits around 35~50 kg/m2.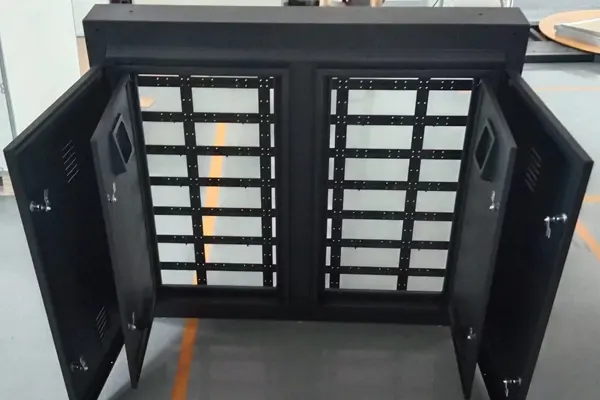 Fixed LED display cabinets for indoor installation:
We use these types of cabinets in indoor LEDs. We do not have to worry about weather changes because these are indoor use. The material used does not need many weather-resistant qualities. Like its walls can be thinner and can have openings. On average, the weight of these units is around 20-30 kg/m2.
They also offer low cost. Its lower price makes it the ideal cabinet for indoor LED screens in stores and shops.
LED display cabinets for external facades:
This type of cabinet is for outdoor screens placed on walls or facades. Its design makes it easier to assemble on the wall.
For maintenance, we tend to make it accessible from the front. Other to would be pretty difficult. For instance, you must take down the screen for the daily check. These cabinets are light in weight, about 10 kg per square meter. Moreover, they also offer a better linkage system. For a cabinet to have such characters need some more equipment. Due to this, these cabinets become costly.
Other commonly used LED display cabinets:
Sealed LED display cabinet:
We can divide these cabinets based on the use of display screens. For example, they can be indoor and outdoor sealed cabinets.
Indoor sealed cabinet:
As the name indicates, we use this cabinet for indoor screens. They come with a back cover. We do not commonly use this cabinet now due to two reasons:
Due to its maintenance method
Due to its high cost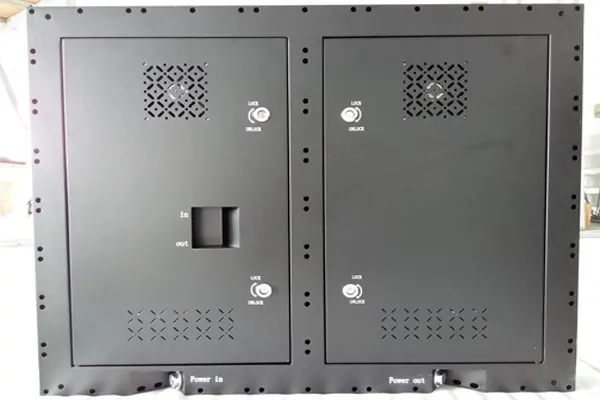 Outdoor sealed cabinet:
Again as the name indicates, we use it for outdoor screens. These cabinets have a waterproof feature. Outdoor sealed cabinets have waterproof grade IP65. They have both front and rear waterproof characteristics.
They also have cooling fans, movable doors, and other materials.
Taxi top LED display cabinet:
These cabinets comprise aluminum and stainless steel. You probably would have seen these on the top of the taxi. The vehicle generator powers these taxi top cabinets.
We can play advertisements, pictures, texts, and videos.
Front open LED display cabinet:
We also install LED displays on the walls. In the case of such installations, there is no space on the back side of the display screens. Front open cabinets are suitable for this kind of installation. It is also best for double-sided screens with no space between the sides.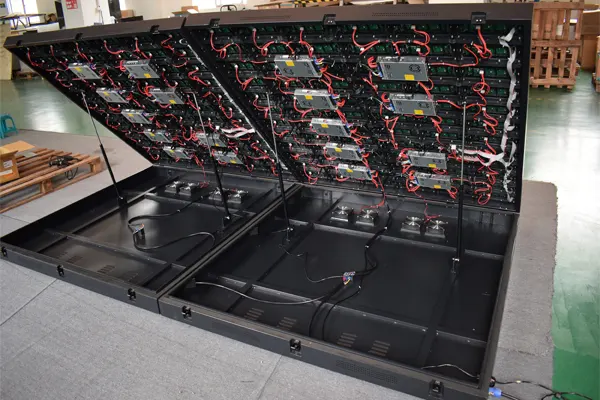 Conclusion:
Above are different types of LED display cabinets. Besides these, there are also some other cabinets, such as:
Transparent screen cabinet
Light pole cabinet
Stadium screen cabinet
LED poster cabinet
If you want any LED display cabinets, please get in touch with us.