In this era of technology, the initiative of LED screens proves to be the best promoter of businesses. We first look for displays for a business or any entertainment. They make a new notion in both fields of entertainment and business.
When we go for LED displays, we find different types. These can be outdoor, indoor, rental, flexible, etc. Today we will discuss rental screens. First, we will discuss significant concerns about it. Then, it would be what is rental LED screen or how it is beneficial.
We can merely define the rental screens by saying it is the best solution to uplift your event.
What is a rental LED screen?
As the name indicates, it is for rental purposes. When we use displays for rental purposes, we call them rental LED screens.
Such displays have LED technology. They are now the best choice because of their distinctive characteristics. These qualities include refresh rate, color contrast, and energy efficiency.
These screens find their role when we have massive traffic of people. They use them in events where we have to engage a mass audience.
We can make LED video walls of giant sizes with many modules. LED screen rentals are then easily installed and removed. These screens are also called jumbotron rentals.
Advantages of LED screen rentals:
There is a range of benefits offered by renting screens. Here we will discuss a few of them. These includes:
Portable and ultra-thin
Seamless splicing
Quick installation
Long service life
Affordable price
Reliability
Portable and ultra-thin:
Typically for traditional displays, we use heavy materials to make cabinets. These cabinets consist of SPCC. SPCC means cold-rolled carbon steel sheet and strip. Due to this, we can call it an iron box. Moreover, we use plates in it. Therefore, it offers a low price. But, there is a disadvantage too, that it is too heavy. Its weight per square meter reaches over 35 kg. And the typical thickness is about 18 cm.
In the mobile LED screen rental, we have overcome this disadvantage. The cabinets of rental screens consist of aluminum. Thus, its weight is relatively low compared to traditional cabinets. Due to this, rental screens are lightweight. It weighs about 7 kg for a panel with 500×500 mm. And the thickness can be about 8 cm only. Besides, it has good thermal conductance. This factor proves to help make rental services effortless.
So, these screens are portable and ultra-thin to make their usage easy. We can dismount and install them within no time.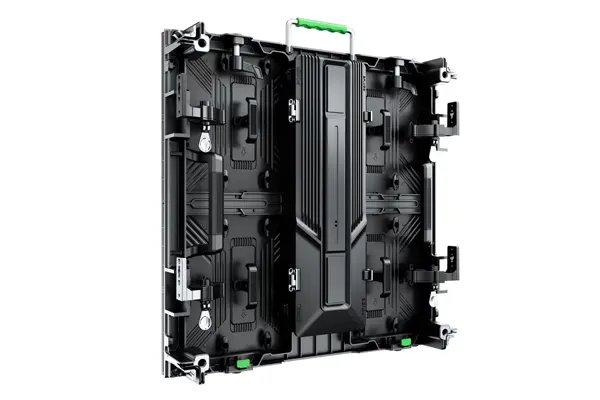 Seamless splicing:
In the case of traditional LED screens, we use a manufacturing pattern of sheet metal. Manufacturing techniques include bending and soldering. And the deviation of screens exists at the millimeter level. Its frequent deformation after processing cause this deviation. So because of this, it is challenging to meet the requirements of seamless splicing.
We have overcome this factor in the case of LED video wall rentals. It is due to the module forming machine. This machine in manufacturing aluminum cabinets limits deviation within 0.1 millimeters. As a result, we can quickly meet the need for seamless splicing.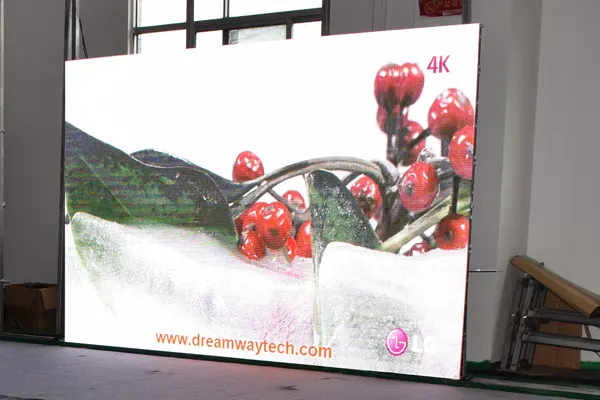 Quick installation:
We have already discussed its composition. Its cabinet has aluminum. Thus, it is lighter in weight. Moreover, it has high precision. These features ensure convenient and quick assembly and disassembly.
Technicians can splice cabinets within a few minutes. So there will be a shorter time for installation. It will also save labor costs.
Long service life:
For any electronic device, we first look for its service price. We always prefer devices with long service life. So here is a rental LED with long service life.
The service life of any display depends upon light-emitting diodes. For a light-emitting diode, temperature is the primary killer. So we have to maintain the temperature.
In rental screens, we use aluminum cabinets. As we see, aluminum tends to have sufficient cooling capability and thermal conductance. These factors stabilize the temperature. As a result, it tends to increase the service life of the rental displays.
Affordable price:
For any setup, the first factor to consider is always budget. People tend to focus on devices with low prices and more benefits. So here we offer you rental screens with both factors.
Event organizers with low budgets will find these screens the best choice. But, if you have a limited budget but want a fantastic event, you must consider rental displays.
The fact that these screens are easy to install plays a significant role in this part. We do not have to pay much for installation. Moreover, the other factor important in this regard is its brightness. Due to its luminance and clear visibility, you can install only a screen. A single screen is enough to meet the demand of the audience.
These screens are energy efficient. So you also do not need to worry about the bills. It consumes less power. Your electricity bills will be low.
You only need to find a company with the best prices and high-quality screens.
Reliability:
We have to use rental displays in outdoor setups. There will be environmental factors that will affect its functioning. So screens need to be reliable enough to withstand the harsh environment.
Rental screens are sturdy and durable. They can withstand harsh environments. These include heavy rain and strong winds.
It means we can offer our audience a display with a clear view regardless of the weather.
For a rental display, we have to make an outdoor setup. It is up to us how creative we are to make a mesmerizing event. We must be creative to uplift our event and make it memorable for our audience. I will discuss innovative ways to install rental screens for an event here.
Installation of rental LED screens:
We can move the rental LED screens quickly from one place to another. Thus, the installation should be quick and efficient. A team of professional staff should handle this process. There are several things that you should consider while installing rental screens:
The installation and disassembly of rental screens take place daily. Thus, we should move the cabinets carefully. If there are edge bumps, it can lead to LED lamp beads failing.
Make sure the power is off when installing the cabinets.
Check the LED modules properly before powering on the display screen.
The following are the standard installation methods:
Hanging method
Stacked method
In the hanging method, we support the screen from:
Overhead truss system
Ceiling grid
Crane
In the stacked method, all the weight is on the ground.
Applications of rental LED screens:
We all know the fact that rental screens are now in demand. So we can better attract an audience via these screens. And I will tell you some ways to use these displays, although it is difficult to list all their applications.
Here is the list of events that you can boost via these screens:
Sports Events
Pay-per-view events
Stage backdrop
Social Media wall
Sports Events:
Sports mainly occur in big arenas. It is difficult for the audience to see the ground correctly. We counter massive audiences at such events. So here we find the application for rental screens. It helps every fan catch everything.
You can better engage the audience. The purpose of entertainment is then fulfilled smoothly via these screens. You can also use it to show real-time scores of the game. All you need is to be creative to use it better.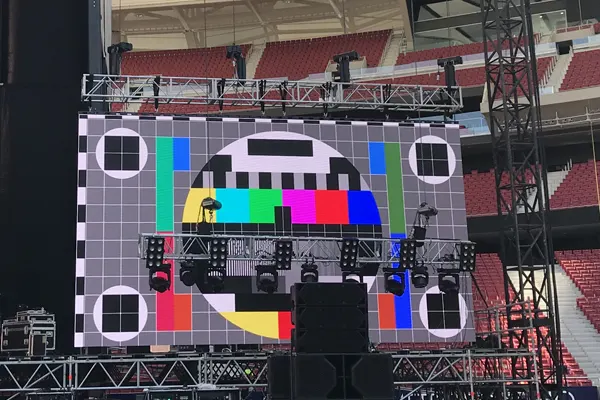 Pay-per-view Events:
At such events, we usually witness high demand for such displays. If you want to stream live video to a huge crowd, your first choice is the rental screen. You can efficiently serve everyone there via these screens.
Movie streaming
Live gaming
Live news
National event
In all such events, rental screens are the best tools. But you can also find different purposes for its installation.
Stage backdrop:
If you want to create an unforgettable experience for your stage, it is the best tool. You can make your stage background. To uplift an event, it can play a vital role. It will give your stage an appealing look.
For an event, the most challenging task is to engage your audience. If the audience shows no interest, it is of no value. So rental LED screens can make it easy for you. It tends to give artistic illumination to your event's place. The audience finds it more fascinating when stages have such bright backgrounds.
The audience often tends to get disconnected when they are standing at some distance. At a distance, they can not see what is happening at the center stage. So, having such giant video walls, you can entertain your audience. Besides, you can deliver your message to every individual present there.
Stage backdrop helps you to engage your audience. For example, you can show exciting movies or images during a break. The audience gets energized if we use such approaches. It will then ultimately lead to a successful event.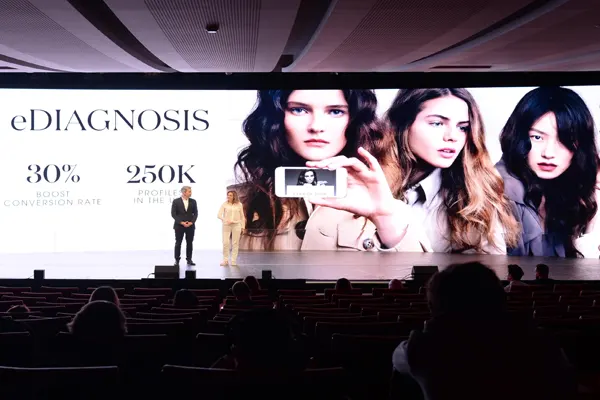 Social media wall:
You can use rental displays for brand promotions. Advertising via displays has always been the best choice. So, the rental screen can benefit you in this regard. You can use them as a digital screen showing relevant social media posts or images. It is the best way of brand promotion.
You can get the attention of your attendees by posting user-generated content. They got excited to see content that came from their colleagues. It can be an excellent addition to your offices too.
Indoor LED screens have better resolution compared to outdoor rental screens. First, it is because they have a lower pixel rate. It is because the viewers are closer to the indoor LED display.
These screens are typically modular. It is for more convenient maintenance. Moreover, indoor environments do not have direct sunlight. Thus, the brightness level is low for these screens. In addition, they have fewer protective features.
Outdoor LED screens rental have better protective features. They have higher IP ratings. It is because they have to face harsh weather. Their brightness level is also high. We design these screens for long viewing distances.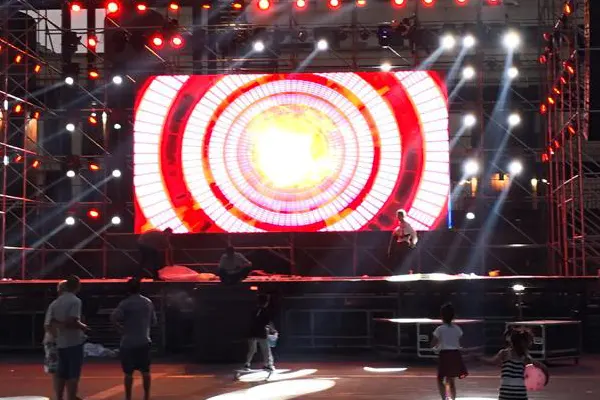 What is the LED screen rental cost?
Prices can vary depending upon the products and locations, as does availability. This is because the prices do not appear online. Read the article: LED Screen Hire Price and Factors Affecting It.
How to control rental LED display board?
Currently, synchronous control systems are the dominant control techniques used. The general lighting control system has the same structure as the images show. When using synchronous controls, the LED display means to show the real-time content.
Conclusion:
Rental LED screens have become the need of these times. You often need display screens for one-time purposes. These rental screens have facilitated this one-time use of screens. It has also expanded the applications and the full benefit of display screens.